FINAL TOUCH WINS THE SUMMER CHAMPIONSHIP
August 24, 2014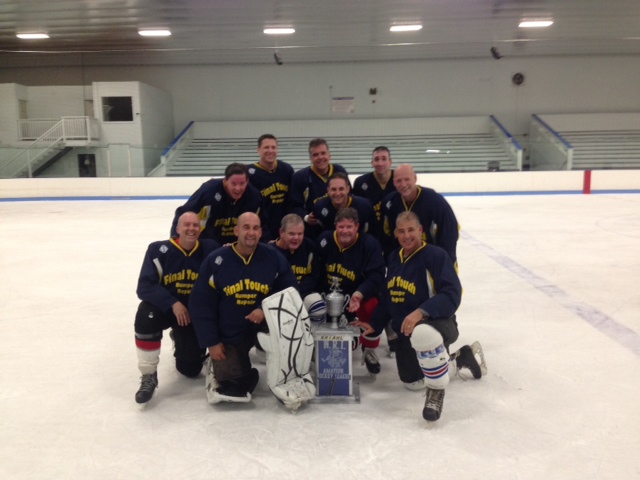 Final Touch had a magical run through the playoffs. A stunning upset over 401 Consulting and then on to out muster Manville Pizza.
In the first period it was back and forth action. Keith Kreaunelis opened the scoring for the Pizza and the game. The lead would be short lived as Sean Smith of Final Touch popped one home just 2 minutes later. Still in the first, Final Touch was buzzing around the net. Peter Meegan would get the go ahead late in the period. The lead would last right into the third. Manville Pizza would get the equalizer just 3 minutes into the last period of the summer. Yet it was not meant to be for the Pizza. Peter Meegan would come up with a 'Happy Gilmore' shot. I think it even banked off a crashed 1975 VW Beetle. In any case the puck had eyes. Final Touch would hold onto win. What a terrific game. Exciting from the opening whistle to the final horn.
It has been a great season. Hope to see you all in the winter. No games this coming holiday weekend. Keep an eye on your phones or email to find out what team you will end up on.
This how Mike Dussault felt after the game. You don't want to make him angry. You wouldn't want to see him..... Angry. He turns into a ring ding eatin turtle!